CAUCASIAN OVCHARKA

CAUCASIAN MOUNTAIN DOG

USA BREED
FOUNDERS

EXCLUSIVE
BLUES

PUPPY BLUES
FOR SALE ??
CLICK HERE


NEW
BREED BOOK


"Only Once in a Blue Moon ...."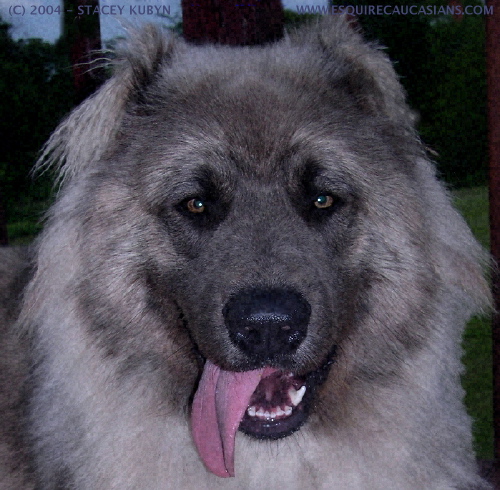 Esquire Caucasians' Rare "Caucasian Ovcharka Blues"™ !

The "Caucasian Ovcharka Blue"™ is a very rare and beautiful blue gray to champagne coat color produced by pigment genes that dilute the usual dark gray to fawn gray coat colors. While rare, the genes for "blue" coat color appear occasionally in a wide variety of dog breeds and may be ancient in origin. In addition to the extraordinary coat shade, "blue" Caucasians are marked by slate gray masks, eye-rims and nose leather. "Blue" Caucasian pups retain their blue eyes for a long time. Stunning amber colored eyes are seen in adult "blue" Caucasians.

"Blue" is not recognized by the current FCI Breed Standard for Caucasians. As a result, "blue" Caucasians cannot be shown in the breed ring. Nevertheless, international interest in this naturally occuring color is growing. "Blue" puppies tend to have thick, luxurious coats, and be the heavier boned pups in a litter. No known health problems are associated with "blue" Caucasians.

Some of our lines at Esquire carry the "blue" gene, and "Once In A Blue Moon Puppies" are occasionally available. Click the Blue Moon - see if you are lucky enough to see one!


PUPPY BLUES FOR SALE ?? -- CLICK HERE
If you pet the Blue,


he might show you his Blue friends ....
COPYRIGHT NOTICE
All material on this website Copyright © 2005 by Stacey Kubyn, Esquire Caucasians and others. All rights are reserved.
Copyright protection is hereby asserted in the United States and Internationally without limitation and will be vigorously defended. All content, graphics, photos and computer code herein are protected by US & International Copyright Laws, and may not be used for any purpose, nor copied, reprinted, published, translated, linked, hosted or otherwise distributed by any means. Be advised that digital watermarking, tracking codes, encryption and other technical and non-technical means may be employed in the defense of these rights.